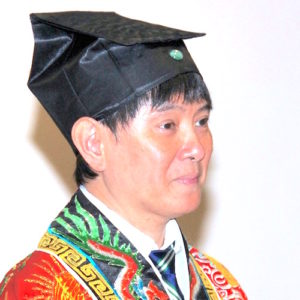 Jeffrey C. Yuen
Master Jeffrey C.Yuen was born in China. He currently lives in New York City.
He is a Daoist priest, 88th Yu Qing Huang Lao Pai generation (Jade Purity Yellow Emperor Laozi School), and 26th generation of the Quan Zhen Long Men Pai School (Complete Reality School Dragon Gate School). His Daoist name is respectively Yuan Xu and Song De.
Since childhood his adoptive grandfather Master Yu Wen, who died in 1981 at the age of 108, taught him Daoist healing and Classical Chinese Medicine. At the age of sixteen he designated him his spiritual heir.
Daoist Master Yu Wen belonged to the Yu Qing Huang Lao Pai School, a Shang Qing sect from the late Sui dynasty (206 AC-220DC). He had a deep knowledge of the school's classics, its rites, liturgies, healing arts; and divination. During his long life Master Yu Wen traveled throughout China. He was a martial art master of the Wu Xing Quan (Five Element Fist), a style of Daoist Qigong practiced on the Hua Shan sacred mountain.
Look at Jeffrey Yuen's online courses »
For eight years Master Yuen studied Classic Chinese medicine and Chinese herbal medicine with Master Gong Song Liu of the Qin dynasty tradition, a friend of Master Yu Wen. After returning to China at the age of 100, Master Gong Song Liu expressed his satisfaction about transmitting his teachings to Master Jeffrey Yuen.
Master Jeffrey C. Yuen trained in martial arts with many eminent teachers. Among these masters are Leung Shum (Northern Eagle Claw), Lo Ching Sum (Vietnamese Jing Wu Association), Chan Hai-Fu (White Crane's Needle-in-Cotton), Chan Tai Shan (Tibetan Lama style), Yao Mei Hua (Yang Style Tai Chi Chuan), Wang Qing Shan (Yang Style Tai Chi Chuan), and Cui Yan (Chen Style Tai Chi Chuan).
Master Jeffrey Yuen has also been ordained in the Quan Zhen Long Men Pa tradition. Master Lu Xin Xu performed this ordination in gratitude to Master Jeffrey Yuen's effort to have the United States Immigration and Naturalization Service (US INS) recognize Taoism as a religion, which paved the way for other Taoist priest to enter the US on religious grounds.
Master Jeffrey Yuen teachings include all branches of Daoist Chinese Medicine: acupuncture, tuina, Qigong, pharmacopoeia, essential oils, dietetics, and meditation. Following his monastic order's tradition of oral transmission, his teachings cannot be found in books or treatises. He believes that written words do not allow for concepts and paradigms to evolve and mutate as they should, according to the spirit of Tao.
Master Jeffrey Yuen teaches in the United States and in Europe. In Italy he is exclusively affiliated with Xin Shu since 1997. He authorized Xin Shu to collect his teachings and publish them under his responsibility and to distribute his workshops in Rome as video courses.
Master Jeffrey Yuen's lessons are open to all possibilities. A rigorous and precise knowledge of the Classics placed in their historic context, and unique to his teachings, incorporates somatic, psychological and spiritual aspects of the human being required for the cure and prevention of maladies.
Master Jeffrey Yuen has the exceptional ability to offer western medicine a vision of Classic Chinese medicine, and to clearly share with students a unique experience otherwise difficult to attain.
Jeffrey C.Yuen, Master of meditation and cure, has a deep knowledge of western medicine while also holding a Master in Mathematics from Columbia University.
His International activity includes the following:
Former Dean for Academic Affairs for the Swedish Institute's School of Acupuncture and Oriental Studies (NY);
Lecturer at Mount Sinai School of Medicine (NY);
Courses in Chinese Philosophy and Oriental Therapy at Saint John's University (NY);
President of the International Tai Chi Institute (NY);
Classic Chinese Medicine seminars, conferences and symposium in the USA (NY, NJ, NC, CA, NM), Europe (England, Ireland, Belgium, Latvia, Italy), and Switzerland.;
American Association of Acupuncture and Oriental Medicine (AAAOM) "Educator of the Year" (1995).;
Doctorate Curriculum of the American University of Complementary Medicine (AUCM) in Los Angeles, CA., is based on Master Jeffrey C. Yuen's teachings.;
Dean of Classical Studies at Daoist Traditions College of Chinese Medical Arts at Asheville (NC).
Master Jeffrey C. Yuen website: jadepurityfoundation.org.