01/02/2021
,
- Comments Off

on The Seminars of Master Jeffrey Yuen 2021 – live streaming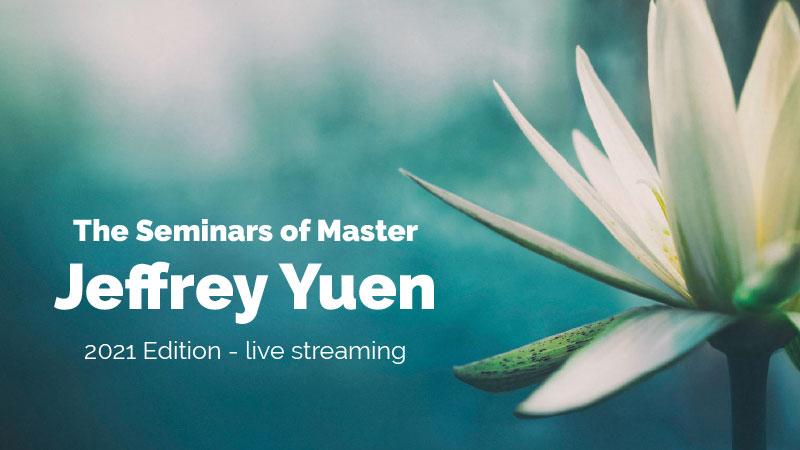 We are really excited to present The Seminars of Master Jeffrey Yuen, 2021 Edition, scheduled on May 7-9, 2021.
For the first time in more than 20 years, the Xin Shu Seminars of Master Jeffrey Yuen are entirely delivered remotely, via live streaming. This choice, due to the constraints imposed by the global pandemic, allows us to operate in total safety, experimenting new methods of distance learning and saving travel costs for hundreds of people around the world.
Programme
The Seminars are held in English, with consecutive Italian translation.
The 6 Sounds Qigong

Friday May 7, 2021 – 2:00 p.m.-8:00 p.m. – Time zone UTC+2 (2 Q&A sessions)

The 6 Sounds Qigong is also called the Qigong of "the healing words". It represents a very popular exercise in Qigong practice. This style is based on the assumption that the emission of a given sound and the specific vibration it produces can be used to activate specific physiological functions, allowing Qi to flow harmoniously.

The Study of Heart and Small Intestine Meridians

Saturday and Sunday May 8-9, 2021 – 2:00 p.m.-8:00 p.m. – Time zone UTC+2 (4 Q&A sessions)

This class deals with the study of energetic pathophysiology and symbolic meaning of the meridians related to the Fire Movement: Shou Shaoyin – Heart and Shou Taiyang – Small Intestine. The study of meridians and acupuncture points in Classical Chinese Medicine focuses on pathophysiology in the broader context of personal growth. Accordingly, the study of Heart and Small Intestine Meridians should be considered as a tool for overcoming life's challenges, understanding life as a journey and stimulating the inner awareness of our own "sovereignty". A learning path aimed at achieving spontaneity and freedom, as wished and summarized in the Taoist axiom "live simply to live fully".
Questions & Answers
Seminars include 2 Q&A sessions per day. Questions should be written by participants via chat. The answers will be provided via live audio.
Jeffrey Yuen
Jeffrey C. Yuen is Daoist priest, one of the world's leading experts in Chinese Medicine.
Belonging to the 88th Yu Qing Huang Lao Pai generation (Jade Purity Yellow Emperor Laozi School), and the 26th generation of the Quan Zhen Long Men Pai School (Complete Reality School Dragon Gate School), Jeffrey Yuen has been designated by his adoptive grandfather, Yu Wen, as his spiritual heir, the continuer of an ancient oral tradition.
Extraordinaty expert in Classical Chinese Medicine, Chinese Herbal Medicine and Martial Arts, Master Yuen chose Xin Shu as the Italian main partner for the transmission of his huge knowledge.
Participation
You can register online. 15% off Early Bird Discount, before February 28th.
For further information, download the Seminars Programme or contact us:
Organizing Committee – Xin Shu APS
Mrs. Nadia Renzoni Mobile
+39-348-3937135
E-mail: seminars @ xinshuacademy.com